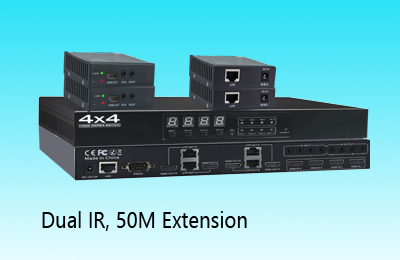 HDBaseT is a good technology for far away distance signal delivery, yet it&acutes too much expensive!
To help our client to get a cheap solution to extend multi input to far distance multi output, HDLINK designed this new product MTXH-0404E50, comparing to other product in the market, it&acutes more stable and easy control, further more, the price will make you surprised.
The MTXH-0404E50 includes bi-direction IR function, user can easily to control input and output devices both sides. The RS232 and Lan port are designed to help professional user to set INPUT (OUTPUT) via computer. The four local outputs are considering to meet requirements of local display or audio purposes.
To sum up, it&acutes really a very good product waiting for your comments and practice, your compliment would be the best present to us!